HP System Disabled A Code Bios Password Reset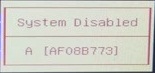 We offer HP System Disabled Power on password for Laptop & Notebook, Our HP Bios Master Password will Help you reset password on: HP Pavilion, HP Envy, HP Stream, HP Elitebook, HP Spectre, HP Chromebook, And HP Omen, Our Password works to unlock hp with: system disabled A code
Supported HP laptop models will Show:
Power on Password, System Disable A code
---
How it works?
Turn on your Laptop, Enter 3 wrong passwords, and choose your HP Laptop Password using the options we have selected below, enter the code shown on your locked laptop screen and hit on buy now!
---
Supported HP Laptop models we can reset:
HP Pavilion, HP Envy, HP Stream, HP Elitebook, HP Spectre, HP Chromebook, HP Omen
Supported HP Laptop Error Code:
System Disable with A code
Password For HP with: System Disable A code

if your HP laptop shows: System Disabled with A code, you can buy your password here
Dear customers:
Your HP BIOS or HDD Master password plus password removal instructions will be sent by email within 5 minutes or the most it takes is 2 hours, password will work 100% or your money back.