Tested Laptop Models with working master password already Tested: Dell Latitude E5420, Latitude E5430, Latitude E5520, Latitude E5530, Latitude E6220, Latitude E6230, Latitude E6320, Latitude e6330, Latitude E6420, Latitude e6520, Latitude E6530, Latitude E6430, Latitude E6430u, Latitude E6430s, Latitude E6500, Latitude E6520, Latitude E6530, Latitude E6400, Latitude E6410, Latitude E6510, Latitude E4200 Latitude E4310, Latitude E4300, Latitude D630, Latitude D830, Latitude XT2, Latitude XT3, Dell Precision M4400, Precision M4600, Precision M4700, Precision M6700, Precision M6300, Precision M6400, Precision M6500, Precision M6600, Precision T3400, Precision T5600, Dell Inspiron: inspiron 5458, Dell optiplex 790, Not All models are listed here.

Get here your Dell 1D3B Hard Drive Password, Password for Dell Showing:
11 Characters + Suffix 1D3B
Asking to Type: Hard-drive Password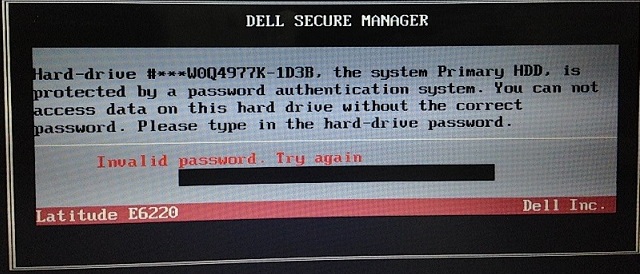 Customers that Have Dell Laptop or Notebook Showing: (11 characters code Ending in -1D3B ) Asking for Hard drive Password, You can buy your password here, so enter your Dell 11 characters HDD Code Displayed on your laptop screen + suffix -1D3B and Dell Model Number below and hit buy now. code should be as
Example: XXXXXXXXXXX-1D3B or ***XXXXXXXX-1D3B

Dear Customers all Hard drive Master passwords will be sent by email within 5 minutes or the most it takes is 2 hours, Password will Work 100% or Your Money back!
Services are Aimed to Offer:
Dell 1D3B Hard Drive Master Password
Disclaimer:
Please Note: We like to think that you are unlocking your own laptop and that you know how many passwords are set,
Know that Bios Password is used to unlock the motherboard, and hard drive password unlock only hard drives,
Bios & HDD Passwords Are Sold Separately and windows password removal program is also available.
Customers who bought Dell 1D3B HDD Password Also bought:
Dell 1D3B BiosPassword,
If you need it, click here
How to Disable the Dell HDD Password if you lost it, or forgot it:

You can disable the password within bios setup.
Restart the laptop pressing F2 Every second,
Type the hdd master password we sent you,
Go to: security,
Then: passwords,
Click on the Unlock Setup option,
Go to HDD password,
Them disable the password,
There will be 3 fields on hdd password,
Type the HDD master password we sent you in the first field
And leave the other 2 fields empty!
Click on Save it, password should now be removed, and laptop will stop asking for hdd password on boot.
Keywords:
dell 1d3b hard drive password, dell latitude hdd password, dell precision hdd password, dell optiplex hdd password, lost dell hdd password, dell hdd password problem, forgot dell hdd password,